Posted by Koorosh Daneshgar on Feb 22nd 2018
Diamond engagement ring styles!
Now that we've covered the anatomy of rings , let's talk about ring styles! There are several different styles in the world of engagement rings, and they can be specific designs or general groupings based off design elements. This is going to be a great opportunity for you to learn about the design elements you or your partner may be interested in. We are going to talk about design styles, their defining characteristics, and the people who tend to gravitate toward certain styles. This way, it'll make it much easier to identify the engagement rings you may be interested in finding. This blog post is a professionally based opinion piece. I emphasize opinion, because nothing in life can easily be defined into perfectly clear-cut categories.
Vintage Diamond Engagement Rings
One of the most popular styles that is currently being searched for are vintage style engagement rings. Vintage style engagement rings can be easily defined by one specific feature: heavily detailed design elements. Whether it's filigree (ornamental wire detail), milgrain (beaded edging), vintage cut diamonds or vintage cut gemstones (European, rose, or mine cut), or engraving (carved detail). Vintage engagement rings will have beautifully intricate detail incorporated into its design. Many vintage style rings feature pave set diamonds. The reason why this style is called "vintage engagement rings" is because many antique diamond engagement rings throughout history have featured these types of design elements.
Vintage styles come in all shapes and sizes, and all shapes and cuts of diamonds or gemstones. There are three subcategories that vintage engagement rings can fall under; Victorian, Art Nouveau, and Art Deco.
Victorian
Victorian Jewelry, including engagement rings, are inspired by the jewelry of the Victorian era, which is defined by the 1800's until the early 1900's. This period, because of Queen Victoria's love of jewelry, became a jewelry renaissance. Big, bold designs with softer geometric shapes bloomed into fashion. When you look at Victorian jewelry, you are likely to find swirls, circles, florals, and filigree that matches the grandeur of jewelry that was so prominent during that period. Some jewelry from this time is also gothic in inspiration, reflecting the mourning period of Victoria's husband Albert.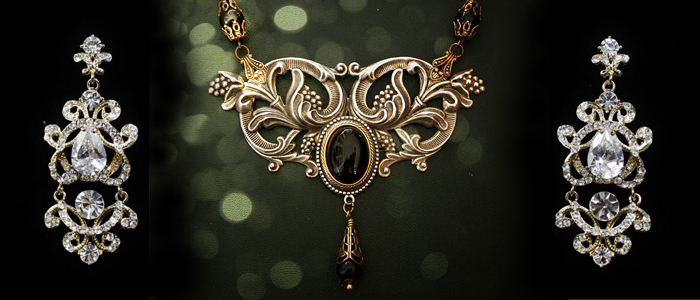 Art Nouveau
Art Nouveau was an artistic movement that is reflected in many aspects of European design; including architecture, art, and, of course, jewelry. This artistic movement saw the combining of intricate linear designs and curves inspired by natural organic forms. The Art Nouveau movement saw a rise in prominence of filigree designs and florals, with the aim to celebrate nature and delicate, feminine beauty.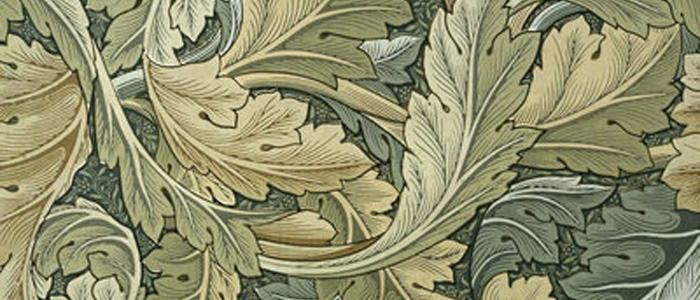 Art Deco
Art Deco is the third style of Vintage Engagement Rings. Art Deco is defined as the predominant decorative art style of the 1920's and 1930's; characterized by precise and boldly delineated geometric shapes. Lines, squares, and triangles are very likely to appear in Art Deco-inspired engagement rings. Even round diamonds will be highlighted by linear geometric settings that give the illusion of different shapes. If this description seems a little confusing, then the best example of this would be to view the quintessential pinnacle of Art Deco architecture, the Chrysler Building in New York City! With its hard, geometric lines and modern style, it's been hailed as one of the most iconic examples of Art Deco style art and architecture.
If you find some of these styles hard to discern, or notice a fair amount of similarities among them, that's okay! Many of these style periods overlap and inspired each other, leading to new and unique design combinations. Today, many vintage style rings are a combination of one or more of these design elements to create something truly one-of-a-kind. Vintage diamond engagement rings frequently speak to the woman that likes incorporating fun detail and design into her wardrobe or likes the romantic styling of the past. The person who likes vintage will frequently enjoy putting her own stamp on a style to make the design truly her own.
If you have checked out some of the blog posts before this one, hopefully you've sen that we did an entire post about halo engagement rings : what they are, how they differ from other styles, and whether it's a "trend" or a style of ring that is here to stay. I recommend revisiting this page for the full impact and our opinions on Halo Style Engagement Rings. In this post, I did want to add two halo setting designs that have their own name and definition: Ballerina Rings, and Princess Di rings.
Ballerina Rings
Ballerina Style Engagement Rings are a unique style that has, unfortunately, fallen out of popularity in the last couple decades, but it can still be found in many design styles. Lately, the style has slowly gained some traction with some modern design updates. The ballerina ring gets its name from the halo of tapered baguettes flowing around the center diamond, giving the appearance of a flared ballerina tutu.

Princess Di
From the time Princess Diana was proposed to, this ring has sparked many discussions. It was originally deemed to be beneath a princess, especially one of her caliber, to have such an affordable ring (only coming in at approximately $28,000 at the time). Since then, the style, which was chosen for its accessibility from the crown jewelers: Gerrard & Co., has become one of the most sought-after styles of ring in history. After Diana's death, the ring was passed down to Prince Harry, who passed it to his older brother Prince William to propose. The ring now rests upon the elegant hand of Kate Middleton. The iconic style features an oval center stone (sapphire for style purists) with round, prong-set accent stones and no stones down the band. While there are slight variations in this style, like split shanks or different shaped center stones, the style has remained remarkably unchanged.
There seems to be a few misconceptions about solitaire setting engagement rings among people looking at diamond engagement rings. Many people believe that the solitaire is the center stone of the ring. However, the definition of a solitaire is "A diamond or other gem set in a piece of jewelry by itself." Solitaire – like solitary. Solitaire rings feature only one stone in its design. While there are some people who give a small amount of leniency toward gallery stones, it is generally accepted that a solitaire setting has no side or accent stones. Simple, classic solitaires are perfect for the girl who is classic, timeless, and modest: the girl who enjoys a t-shirt and jeans or the little black dress.
Modern
Modern design styles, also known as contemporary, are open for interpretation. Modern styles are highlighted by bold lines, geometric shapes, interesting gemstones, and newer concepts. They tend to feature a lot of metal: channel set, bar, and bezel settings. These designs have beautiful and unique shapes: free-form design, circles, lines, and every shape in between. Modern styles are named as such because it's a new way of pushing the envelope and creating new and interesting styles, limited only by a designer's imagination. Do you want a raw, uncut diamond? How about a fancy colored gemstone? Do you want the rings to look like hands holding your center stone? Or did you want the ring to blend different styles and cultures and marry them in a style unique to you? The possibilities with modern styling are virtually endless. This style of ring is the best choice for the daring, the avant garde, and the ones that are constantly experimenting.
Multi-Stone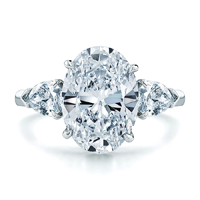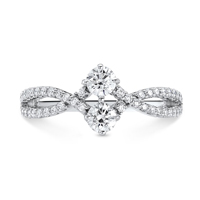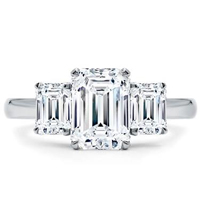 I'm sure that just by looking at this style's name, you're thinking, "Don't most rings have multiple stones?" While that may be true, most rings do have multiple stones in them, this isn't referring to the multiple diamonds along the ring like the others, and instead, referring to rings with multiple center diamonds. This can usually come in two different styles: Three-Stone and, more recently, Two-Stone.
Three-Stone
Three-Stone can be defined in two different ways. It can be a ring with several diamonds, but with three prominent center stones. Three-stone can also mean a ring that only has three stones. The two side stones can be small, or all three stones in a three-stone ring can be the same size. The three-stone engagement ring style has been an iconic style of engagement ring and anniversary band largely due to the marketing of the ring style. This ring was marketed as a ring to represent your past, present, and future; and has solidified itself as an iconic style ever since.
Two-Stone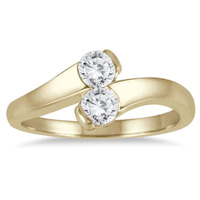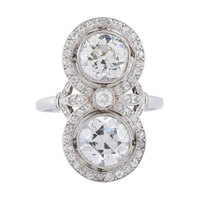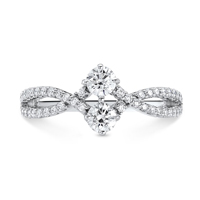 The two-stone ring has become a popular modern variation of the three-stone ring. This style features two prominent center stones, usually of matching size. This style gained traction for similar reasons to the three-stone style – the romantic symbolism. The two-stone ring is meant to represent two people in love. Unlike three-stone, the lack of symmetry seen in a two-stone ring means many of these rings are seen with a more modern design and style.
While the two-stone ring may be more modern than the traditional style of three-stone ring, the rings can be done in a variety of styles that range from vintage to contemporary – as seen by these rings presented here. These styles are a wonderful fit for someone who likes traditional or modern styles, but the work especially well with people who love the sentimentality attached to the rings. These styles can tell a story of true love and are sure to wow every time.
Traditional is the last style on this list, and here for good reason. Whether you call it traditional or classic, this style is exactly as it sounds; a timeless, beautiful style that has endured through the years of evolving fashions and trend chasing. This is a wide-encompassing style that can include rings from every variation seen before: from three-stone, to solitaire, halo setting, etc. The traditional ring is simple and elegant. It can have an endless range of styles, details and designs. They are the quintessential engagement ring and are sure to never go out of style. This ring is perfect for someone who lives modestly, dresses in classic styles, and loves simplicity and elegance.
Are there more styles than what's listed here?
Of course there are! This list was not at all an exhaustive, all-encompassing list of engagement ring styles. There are hundreds of different styles throughout the world. Clothing, fashion, technology, food, or any other taste-driven artistic form of self-expression is constantly changing and can never be perfectly defined or pigeonholed. This is what makes art so great; everyone's tastes are different and everybody is unique. There are people who enjoy dressing in the most classic, simple clothing who want a large, ornate, or intricate engagement ring to complement, while some love to live lavish, but would like to have their engagement ring beautiful, but subtle. Everybody has a ring that can fit their personal style. This leads us to our next point…
What style will look good on me or my partner?
That is a fair question, but a question impossible to answer. Like choosing clothing, cars, or shoes, it is best to try rings on and see if you like the way they look. So get out there and try on rings, see what style appeals most to you and what you think looks best on your finger. However, if you're trying to maintain the element of surprise, then it's best to look at the style she exhibits in all aspects of her life! Make the ring encompass all who she is.
Why should we come to you to design my ring?
We involve you in every step of the process. We will first sit down with you and go over any concerns you have and any specific design elements you want the ring to have. Once we have established exactly what you want the ring to look like, we will proceed with the design process. Once you see this design, if you want to make any changes, or if you have any questions or concerns we will be happy to address them for you. Our role is to help you create the perfect ring and that means we will listen to you and make sure that your ring is truly one of a kin d.
We'll help you to design your dream engagement ring without stress and spending countless hours searching for your perfect ring. All you need to do is click on "Free Consultation" to get started.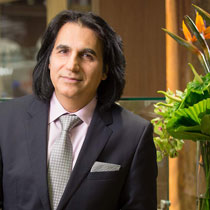 By: Koorosh Daneshgar CEO/Design Chief
Email: Koorosh@WeddingBandscompany.com
Phone: 312-920-0726
Business Text Message Line:312-785-8333