Posted by Koorosh Daneshgar on Jul 9th 2019
Tips for engagement ring care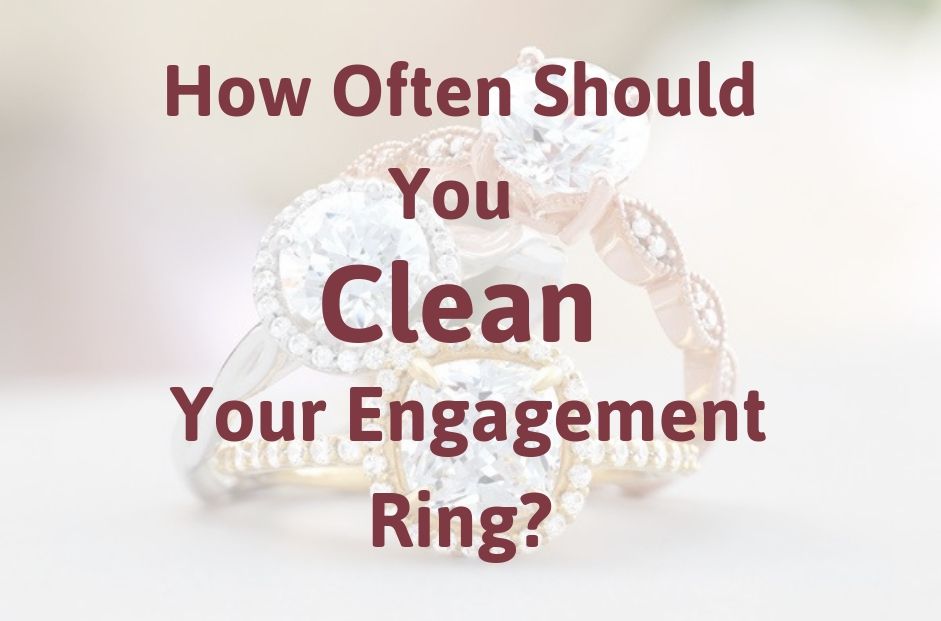 There's a lot talk and many opinions about how, when, where, and why you should get your wedding bands and engagement ring professionally cleaned after your initial purchase. Some places state once a year, some twice a year, some even say every 3-4 months. But one thing all jewelers agree on is that you should definitely get it professionally cleaned somewhat regularly after you buy it. Another fact about professional cleaning that most jewelers agree on is that you should get it cleaned at the same place you purchased the rings. Now it is understandable that sometimes that isn't a possibility, but if you live in the city where you purchased your beautiful token of your love and you can get there every so often you should drop it off. I get a lot of questions on what's the difference in professional cleaning and cleaning it regularly at home, and to those customers I say, "Thank you for asking the important questions." Regular cleaning at your home is also a great idea and actually very important to the upkeep of your rings, but there are somethings that you can't achieve in regards to cleaning that your professional jeweler can. In this post not only do I go through the steps that my particular company goes through to ensure that you have stunning rings for a very long time, but I will also be discussing costs of services at our store and also some tips to help you keep your sparkler looking rocking in between professional check-ups.
How often should you clean your engagement ring?
Being in the business for many years I have really gotten to look at and study the best way to keep those special mementos of love looking in tip-top shape. Just like any jeweler I want my customers to get the best service they can so they will only have great things to say about their purchases. One thing that I have really looked into and formulated was a reasonable professional cleaning plan that covered all customers but also allowed them to pick an extended warranty if they want to after the initial warranty period is over. For my company, we tell our customer's ideally come every 6 months, or twice a year. If we have customers that work or live near us we tell them to stop by whenever they have a free moment: lunch break, in between meetings, etc., and we'll do a quick clean of them. You might stop me there and say, "Wait! I thought you said every 6 months, now you're saying whenever you're around the store?" And to that I say thank you again for letting me clarify. What works best for my company's recipe is that there are multiple options of the types of professional cleaning we provide.
If you bring it in every 6 months and that's it, that's more than acceptable. We understand that life gets busy and getting by could be hard to make happen. Plus, with customers not living in Chicago you will have to make a trip to see us. During this process we strategically inspect all the prongs and stones to make sure they are still secured in their proper place. We will then put it through our ultrasonic machine. This machine, for those that don't know, take a jewelry cleaning fluid and then sends ultrasound waves though the machine to agitate the water causing it to move. This motion helps to remove pesky and hard to reach dirt, oils, and even tarnish. You can have your precious pieces sit in the solution for as little as 3 minutes or up to 20 minutes, just know, the longer is sits in the ultrasonic the shinier and more beautiful it'll come out. After the allotted time in the ultrasonic we will then polish and refinish it. The process for those depends on the metal used for the ring, but to explain in simplest terms, we have a brushing system which will bring back that beautiful metal and mesmerizing stone that you remember from when you either bought the ring or were given it. If it's a white gold ring, this is when we would re-rhodium plate it.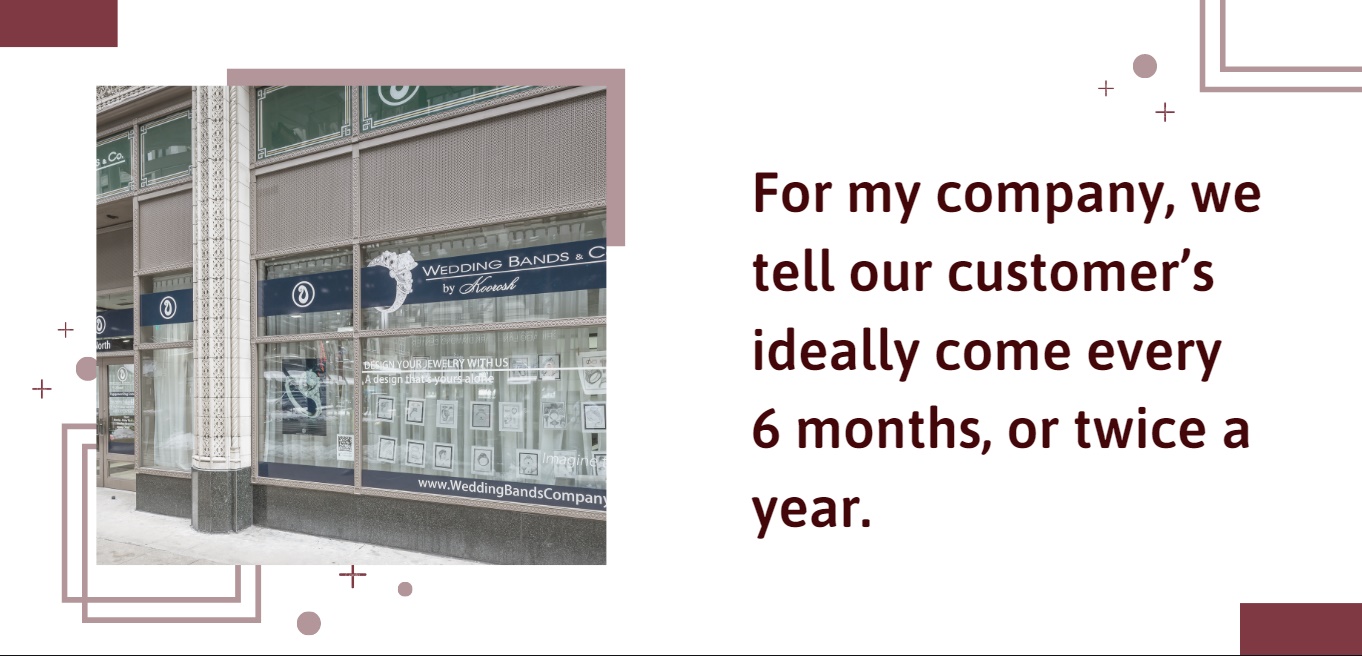 Quick side note, all gold is yellow. When you are creating white or brose gold you are adding different metal alloys to the gold to create that color. For white gold that rhodium plating will need to be added back on after long wear, so we include that in our big 6-month cleaning. Platinum is a white metal therefore it doesn't have any rhodium plating. We will still refinish it when you bring it in for a big cleaning, but it will not be done exactly the same as rings that are white gold. Same rules follow for yellow gold, rose gold, or any other metal whether naturally made or man-made. They will have their own form of finishing and our experienced shop knows exactly what each needs to make it absolutely stunning.
After the polishing and refinishing work is completed we put it back in the ultrasonic one more time, just to make sure no dirt or grim was missed. Then we use our industrial sized steamer to steam any debris that could be left over. We're not letting that beautiful piece go back to its rightful owner without it looking almost new. This steamer is a great last step to really getting it in prime wear shape. After the steam we give it one last check up to make sure that through the cleaning process nothing has come loose or was broken. Once it passes that inspection it is ready to be picked up.
For our customer's that pop in a little more often we are always willing to give it a quick check-up, a few mins in the ultrasonic, and a quick steam blast to get it looking sparkly again. And the best part is that it's complementary. As I stated before, we want our customers to continue to be satisfied with their purchases well after they take them home and present them. And we want you to be able to pass your rings on to your family for generations to come.
Engagement ring cleaning service cost
Cost for services varies drastically from store to store. You need to make sure you discuss these details with your jeweler before finalizing your purchase with them. You want to make sure you are getting as many services and "perks" as possible, after all, this is a huge once-in-a-lifetime purchase that will stay in your family for forever. You want to make sure that it will always get taken care of and treated with the upmost respect.
If you bought your rings from our store, you're in luck! All cleanings on rings purchased in store are complementary, in fact whether you decide to stick with the one-year warranty that every customer gets when purchasing or if you decide you want an extended warranty with us, it's part of your warranty agreement that you have to bring it in for inspection. This helps us once again keep your rings looking radiant for many years to come. If you want to bring in a ring in for us to clean but you didn't buy it at our story, that is acceptable as well. We won't ever turn away anyone who want their rings in the best care that they can be in, this is after all one of the many reasons why we are in this business. Unfortunately, if you didn't buy your ring from the store you will have to pay to get our cleaning service. Pricing for these pieces fluctuates depending on the metal, number of stones, intricacy of the ring, and how quickly you need it returned. The base price is between $75.00-$100.00 a ring but could potentially go up after one of our talented jeweler gives it a quick inspection.
Is There Tips To Protecting My Ring In Between Check Ups?
Absolutely! There's a lot of buzz about what exactly you as a customer should or shouldn't do when it comes to cleaning your engagement and wedding bands. I will say this, if you're doing nothing, you're going to regret that choice later on. Just like with a car: you have to have your dealership checkup, but you also have to put gas in it, put air in the tires, and check the oil in between those visits.
1-One of the most important things I think to mention is that there are times you do need to take your rings off. So many people wear them all the time, and that is so hard on the ring itself. The metal and stones we use are tough, but not invincible. Some specific times you should take your rings off are if you're at the gym, lifting weights, and when you sleep. Trust me I get it, it's very exciting to have a beautiful engagement ring and wedding band and you want to flaunt it everywhere, but unfortunately if you where it at these two times you're taking a grave chance on losing a stone or messing up the metal. When you sleep the prongs of your ring could get caught on your sheets or comforter and break on or loosen one. At this point the stone that it was holding will start to move or come out completely. The metal of the gym bar and the metal of your ring could end up scratching, when that happens it get the ring out of circle and then that could loosen the setting as well or make it where it doesn't fit your finger anymore.
2-The next time is: BUY RING INSURANCE. I can't tell you how many terribly sad stories I've heard of stones falling out or whole rings getting lost or stolen. If you don't prepare for the worst by getting insurance when the worst happens, there's nothing anyone can do. And not only losing that investment but also a symbol of your love would be so tragic. There are many different types of jewelry insurance policies, some are very simple and some can be very complex, some cover anything that could happen to your ring and some only cover certain instances, so make sure to get a plan that works best for you. You can opt to add a policy in with your home and car insurance, but they aren't as thorough with these policies. They sometimes only include loss and not theft, or only if the stone is a certain size. I also suggest insuring your ring separately with a jewelry insurance company. There are many out there and your jeweler should have one that his company works closely with. You can also do research online and find the perfect plan for you.
3-Another think to keep in mind is don't resize your ring too often. Messing with the size of the ring too often makes the ring weaker. constantly adding metal and then taking metal away and constantly heating it to the point of adding to taking away will make your ring brittle. One resizing is totally acceptable, in fact, at my store when you purchase the ring of your dreams we will give one free complementary sizing within the first year. We suggest that you wear the ring for a few months, see how your hand swell and shrink with the weather, and then come in and get it resized if you think you need it.
4-This tip goes along with taking your rings off but; diamonds are ridiculously strong, but they are not invincible. Yes, you have one of the strongest stones on the planet on your hand, but when the strongest things break sometimes. So just keep that in mind and remember to treat your diamond with extreme care. You will only be rewarded for it in the end with a ring that truly last for forever.
5-The last tip I have is to please get your engagement rings and weddings bands cleaned on occasion, after all that is what this post is about isn't it? There really is no better way to protect a beautiful piece that was specifically made for you then to just keep it checked up and clean. Here at Wedding Bands & Co we want all rings that come out of our store to always look there best and create happy customers. Help us help you to truly love and appreciate the rings you're wearing from day one to day forever.
Above all, the most important thing to remember is that if you take care of your diamond ring, it will last for generations. And the best part is that a few simple steps at home and a trip into your jeweler a couple of the times a year is all you need to protect that legacy.
Why should I come to you to design my ring?
We involve you in every step of the process. At first, we will sit next to you and go over any concerns you have and any specific design elements you mind the ring to have. Once we have established exactly how you want the ring looks like, we will proceed with the design process. Once you see this design, if you want to make any change or if you have any questions or concerns we will be happy to address them for you. Our role is to help you to create the perfect ring and that means we will listen to you and make sure that your ring is indeed one of a kind.
We'll help you to design your dream engagement ring without stress and spending countless hours searching for your perfect ring. All you need to do is click on "Free Consultation" to get started.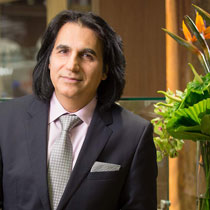 By: Koorosh Daneshgar CEO/Design Chief
Email: Koorosh@WeddingBandscompany.com