Posted by Koorosh Daneshgar on Oct 5th 2020
The Expert Buying Guide

When considering diamond engagement rings, many inquire if a 1.00 carat (1-carat, 1 carat, 1ct) engagement ring is a good choice. In this post, I will answer the most frequently asked questions that I have been asked as a jeweler.
Choosing a diamond starts with understanding the 4C's and why they affect value. A 1 carat diamond ring will look gorgeous if the factors demonstrate optimal beauty.
What Does a 1 Carat Diamond Ring Look Like?

The features affecting the look of 1 carat diamond engagement rings are:
The shape of the diamond: Your eye will first notice the shape of the stone. Different shapes appear larger, longer, or smaller. Certain silhouettes appear bigger due to a large surface area.
Marquise, pear, oval, and emerald shapes look larger for their elongated shape than cushion and round shapes.
The setting of the ring: The style of setting both the diamond and the design of the ring impact the appearance. Prongs traditionally make for an open feel.
The cut of the diamond: The cut is the most significant C in what the eye sees. A well-cut diamond will impact the overall sparkle and fire of the diamond.
The ring style: If you wish to accentuate your diamond, consider a halo. A three-stone style, which is created with a smaller diamond on either side of the center, is a favorite way to add to the visual impact of your diamond.
I recommend reading this blog post to make the best choice of a 1–carat solitaire style:
https://www.weddingbandscompany.com/blog/what-is-a...
1 Carat Diamond Weight
Carat is the weight unit used by jewelers and gemologists. A 1 carat diamond is equivalent to 0.2 grams; a 1 gram stone weighs 5 carats. Weight is not correlated to visual size, so a 2-carat diamond does not look twice as big as 1 carat diamond.
The eye cannot detect weight but sees the physical size. While a heavier stone will be larger, the weight distribution is a function of its cut proportions. A large surface but shallow depth will compromise the sparkle. While this reduces price, it also reduces value.
The relationship between the weight and sizes are shown here:
Shape

Weight (carat)

Weight (gram)

Size (millimeter)

Round Brilliant

0.75

0.15

5.75 x 5.75

1

0.2

6.5 x 6.5

1.25

0.25

6.8 x 6.8

Cushion

0.75

0.15

5.25 x 5.25

1

0.2

5.5 x 5.5

1.25

0.25

6 x 6

Princess

0.75

0.15

5 x 5

1

0.2

5.5 x 5.5

1.25

0.25

6 x 6

Pear

0.75

0.15

7 x 5

1

0.2

7.7 x 5.7

1.25

0.25

8 x 6

Emerald

0.75

0.15

6.5 x 4.5

1

0.2

7 x 5

1.25

0.25

7.3 x 5.3

Radiant

0.75

0.15

6.5 x 4.5

1

0.2

7 x 5

1.25

0.25

7.3 x 5.5

Asscher

0.75

0.15

5 x 5

1

0.2

5.5 x 5.5

1.25

0.25

6 x 6

Oval

0.75

0.15

7 x 5

1

0.2

7.7 x 5.7

1.25

0.25

8 x 6

Heart

0.75

0.15

6 x 6

1

0.2

6.5 x 6.5

1.25

0.25

7x 7

Marquise

0.75

0.15

9 x 4.5

1

0.2

10 x 5

1.25

0.25

11 x 5.5
Understanding this allows you to gauge if the diamond falls within desired measurements to optimize its beauty and value.
Tap to see more about the diamond chart.
How Much is a 1 Carat Diamond Ring?
The price value of a 1 carat diamond varies between $4,500 and $7,500. The other three Cs affect the quality, price value, or both. Here are all four C's:
Carat: A 0.90-carat diamond and a 1.10-carat one are near 1 carat. Even though they seem almost identical in size, they will reflect different pricing.
Cut: The cut quality is responsible for the sparkle and fire of a stone. The gemological rating system includes excellent, very good, good, fair, and poor. Excellent will command higher pricing while poor correlates to the least expensive diamonds.
Color: Refers to the hue of the diamond. The range starts at the letter D letter and ends in Z, which is colorless to light tone. The final letters indicate a distinct yellow or brown color, which we can see with the naked eye. Please be noted that colored diamonds, also called fancy, have a separate system for grading.
Clarity: The clarity refers to the absence of the presence of blemishes and inclusions in the body of stone. The highest price belongs to the flawless grade. All diamonds are graded with the following: flawless (FL), internally flawless (IF), very very slightly included (VVS2 & VVS1), very slightly included (VS2 & VS1), slightly included (SI2 & SI1), and included (I3, I2, & I1).
Shape: While the shape is a matter of personal preference, some are higher priced due to either demand, cutting labor, or both. The price order of 1 carat diamonds starting at most expensive: Round brilliant, Marquise, Oval, Heart, Pear, Cushion, Radiant, Emerald, Princess, and Asscher.
In this video, all these elements are explained under GIA certification:
Fluorescence: describes the phenomenon of changing color when exposed to ultraviolet light. It is in 30% of diamonds. If it is strongly fluorescent, it does not reflect properly. Therefore, strong fluorescence makes a stone less valued.
Metal Alloy: A factor affecting the expense of an engagement ring, but unrelated to the stone, is the choice of the metal. Yellow gold, white gold, rose gold, platinum, and tungsten are some possibilities. Not only does the metal type affect the price, but also its karat, or amount of pure gold, is significant. For example, a 14K less expensive than 18K, due to less precious metal in the mix, known as an alloy.

1 Carat Diamond Ring Band
A jeweler will set your 1 carat diamond in a style of your choosing. There are different designs to use as part of your mounting:
Straight: A straight shank is a circle of metal with uniform thickness for the entire ring.
Bar: Describes a style often used in the wedding ring but is a functional design to hold a center stone. A pair of straight bars across from each other are created, and the stone goes in between.
Bypass: The band, rather than forming one simple continuous line, is divided into two; each part follows the top and bottom of the diamond visually.
Tapered: A tapered band's width becomes reduced as it moves away from the diamond.
Reverse tapered: The opposite of the tapered, this style loses width the closer it gets to the gem.
Infinity: This follows an "8"-shaped pattern, creating an infinity pattern. It carries symbolism for the wearer.
Flair: The metal band suddenly curves out and widens near the stone.
Pinched: Opposite of flair, the band narrows towards the 1 carat gem.
Split: The band is separated at the diamond but joins further down the ring.
Pavé: This "paved' look is made by drilling small holes on the ring before placing the diamonds and fastening with handmade prongs from the band itself.
Freeform: As the name implies, this style of the band follows no particular pattern.
European: The metal band does not have a complete circular shape, for it has usually two curved edges on the opposite side of the diamond's location.
Flush: People usually buy a flush ring as a wedding band for men. However, a thick flush band can enclose a 1 carat diamond for an engagement ring.
Eternity: An eternity band often a wedding band or anniversary ring, but you can also place your 1 carat diamond on it. In this fantastic video, you will enjoy seeing how Pablo Cimadevila designs an engagement ring with a 1.05-carat diamond and a half eternity band.
1 Carat Diamond Ring Shapes
A 1 carat diamond size is available in several shapes. Styles aside from round are called fancy cuts. Popular shapes are round, princess, emerald, cushion, Asscher, pear, oval, heart, radiant, and marquis. Round is the most known and worn for engagements.
Round brilliant: Is symmetrical in all diameters and is made up of 58 facets. This pattern creates a fiery effect with light.
Princess: with its square silhouette, it is advised to use corner prongs versus rounded ones. It has a similar faceting to the round, except with a different surface area and ratios.
Emerald: This style uses layers of step cuts to create an icy effect with the light. A suggested length to width is 1.3-1.5, making it appear larger than other shapes.
Cushion: A squarish look with rounded corners, to make a pillow-like shape. This is becoming a modern classic as a center stone option.
Asscher: Named after Asscher Brothers, this shape looks echo the emerald cut, but is more symmetrical. Since the facets are so open, it cannot obscure lower color or clarity, making those elements more visible.
Pear: A teardrop shape, the belly of the stone has fiery beauty, finishing in an elegant point.
Oval: With an elongated shape and facet pattern like a round, an oval dances with light. Again, a preferred ratio is suggested for optimal brilliance, 1.3-1.5.
Heart: A romantic shape is the Heart. It has one point like the pear, but two lobes.
Radiant: This is a combination of step and brilliant cuts, in a squarish or elongated shape. The beveled corners are like those of the emerald cut.
Marquise: A cut that appears like an elongated eye, the surface of this stone is large. It is often chosen for how long and full it looks when worn on the hand.
Baguette: Whether straight or tapered shapes, these are used as accents for many centers.
Trillion: Although less common, trillion shape diamonds are softly triangular and unique.

1 Carat Engagement Ring Settings
You have a variety of setting options to choose for a 1 carat engagement ring. A solitaire setting for any diamond shape says sophisticated timelessness. Choosing a halo adds glamor and sparkle.
Style terms are as follows:
Prong setting: Depending on the shape of the diamond, the number of prongs varies. This setting provides an open look for the diamond.
Tiffany setting: Always with six prongs, this setting is trademarked by Tiffany & Co. and refers to that type of head, regardless of where it is purchased.
Cathedral setting: The shoulders of the ring are vaulted up some of or the full height of the diamond, versus staying low to the finger without elevation.
Halo setting: A closed frame of diamond or gem accent stones around the center diamond.
Three-stone setting: Paired with a smaller stone to either side of the center before the band or ring style.
Bezel setting: Instead of prongs, partial or full bezels secure a diamond in a thin metal cuff that from the top view seems like a discrete tube-like frame.
Tension setting: The metal band uses force to suspend the diamond between 2 edges, offering 2 clean views – from both the top and through the profile of the setting.
Channel setting: The engagement ring designer places the 1 carat diamond in the middle and micro diamonds within the metal band.
Antique setting: A 1 carat diamond takes on a different era in antique settings, connecting to the past.

Where to Buy a 1 carat Engagement Ring in Chicago?
Considering buying a 1 carat engagement ring in Chicago? The most popular place for Chicago diamonds, including a 1 carat diamond, is a specialty jewelry store in the Jewelers Row.
Jewelers Row, or Chicago's Diamond District, is located in downtown Chicago. It is an advantageous place for buying a 1 carat diamond engagement ring. Since you can meet with a wide range of jewelers, you can find a suitable one.
Specialty jewelry stores take pleasure in creating rings. They offer comfort in helping people find or design the best engagement ring. Useful consulting is given about the best setting, ring size, metal band, and diamond size you can choose. In addition, you can find the easiest method of payment you prefer for purchasing or financing.
The team at Wedding Bands & Company have passion and imagination. Beyond an occupation, they cherish creating highly sentimental gifts - engagement and wedding ring. The showroom is located at 43 E Oak St. fl 2, Chicago, IL 60611

What carat is best for diamonds?
The average carat weight in the U.S. is from 1.0 to 1.9, and in Chicago, it is 1.29.
The chart below displays the most popular carat weights in the United States.
Horizontal Line: Carat Weights
Vertical line: Average Percentage
How can I make my engagement ring look bigger?
Use the following tips to make your diamond look bigger:
Choose a thin metal band, such as 1.5 millimeter
Consider elongated diamond shapes, such as the oval, emerald, and marquise
Add side stones, a halo, or cluster settings to increase the dimensions from the top view
How do I value my diamond ring?
A GIA certificate is a reputable source determining the value of a diamond ring. GIA accurately evaluates color, clarity, cut, carat, fluorescence, and documents the measurements of a diamond. With this certificate, the value of your stone is easy to determine by other similar characteristics, or you can take it for an appraisal.
Why should I come to you to design my ring?
We openly collaborate at every step. We start with a meeting to go over ideas and any concerns before designing. The process continues with a concept and changes. We cast, set, and repair your treasures internally, so it stays personalized as an experience. Our commitment is to hear you and make sure that your ring is as individual as you are.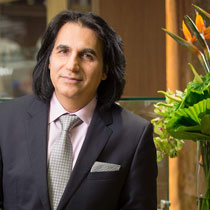 By: Koorosh Daneshgar CEO/Design Chief