Posted by Koorosh Daneshgar on Oct 15th 2023
Where should I buy a diamond engagement ring in Chicago?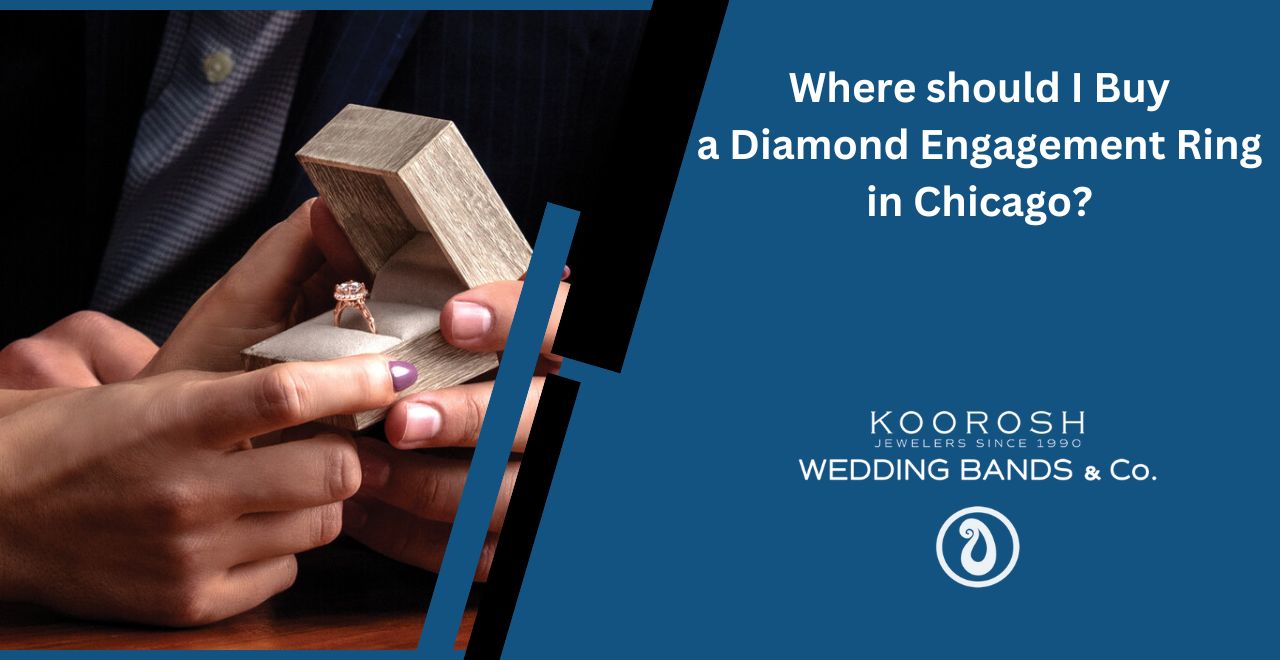 Selecting a diamond proposal ring is a Crucial decision, as it signifies a profound gesture of love and commitment. It is imperative to carefully choose the most exquisite option for your cherished partner.
How to buy a diamond engagement ring near my location
Undoubtedly, the optimal choice lies in a specialized engagement ring store. There, you'll find an adept designer with an extensive knowledge of diamonds, skilled in creating distinctive pieces tailored to your preference. Their expertise will guide you to discover an exquisite diamond ring, you'll hold dear.

Chain Stores vs. Specialized Engagement Ring Stores
Chain stores and specialized engagement ring boutiques stand apart in a significant way. One leans towards mass production, while the other places a strong emphasis on delivering high-quality, finely crafted pieces.
Chain Jewelry Stores
Chain jewelry stores prioritize mass production to reduce expenses. They aim for a middle-of-the-road quality, not exceptional but not subpar either. Even a minor cost reduction can lead to substantial savings when applied across a thousand products, potentially affecting their overall quality.
It's important to take into account the range of services offered. Many visitors have reported that major jewelry chain stores often fall short in providing useful information or addressing queries.
If you have a budget in mind or if you're satisfied with the service quality at a chain store, it could be an ideal choice for you. This is especially true if you're not inclined to make extensive modifications to designs. Ultimately, it depends on what suits you best, even when searching for unique engagement rings.
Engagement Ring Specialized Store
Your ultimate way will be a specialized jewelry store. In such a place, you can purchase a unique diamond engagement ring that both you and your partner would love.
A specialized jewelry store provides a lot of benefits. Finding the perfect engagement ring is easier with a professional designer and diamond consultant.
Choosing a genuine jewelry store with experts can bring you a sense of contentment and ease. It assures you that you have made the right choice.
Extra Tips
Make a list of Chicago jewelry stores you want to visit and compare them to find the best option based on their unique features.

It's imperative to choose a store where you feel a sense of honesty in their dealings. Ensure their sales staff exude professionalism and are forthcoming with all the information they possess.
-Is purchasing jewelry online a wise decision?
Online shopping is suitable for rings costing $1,000 to $2,000, but not the best choice for a bigger investment like $5,000.
Inspecting diamonds, especially in the 2 to 3-carat range, is of utmost importance. Also, carefully observing how diamonds react to light in different environments, such as natural sunlight and indoor lighting, is crucial. The more time you devote to this process, the clearer it becomes which diamond resonates with you. High-quality images or videos can't fully replicate the experience of seeing a diamond in person.
Specialized stores provide valuable assistance, including diamond comparisons and the option to upgrade your ring after two years. If you find a piece online that you love, show a seasoned diamond consultant a picture. They can help you find a similar match within your budget.
It's worth highlighting that when making an online purchase, you may not have the same level of personalized assistance or guidance. Therefore, entrusting a professional jeweler with your selection is the wisest course of action.
How to Purchase the Best Diamond Engagement Rings in Chicago?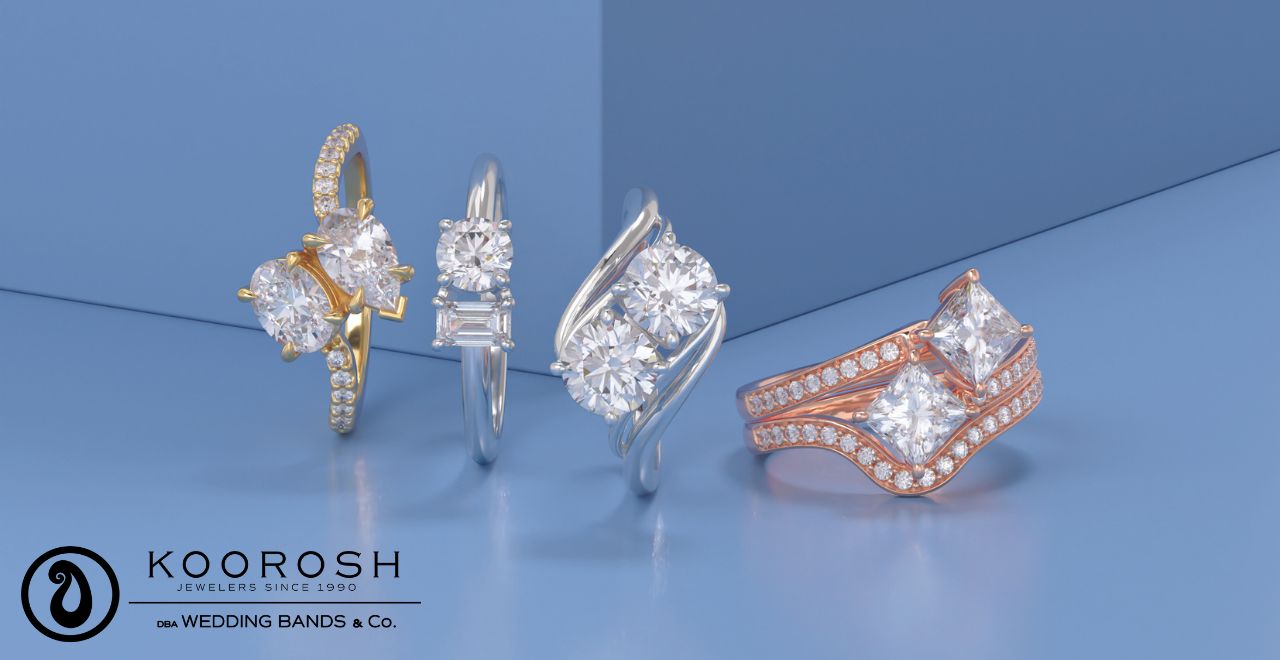 A skilled designer boasts proficiency in a wide array of diamonds, contemporary engagement ring trends, assorted shapes, colors, and more. They offer a variety of prices, and you can anticipate excellent service before acquiring unique designs for custom diamond engagement rings.
Embark on a journey with us as we unveil a distinguished engagement ring specialized store nestled in Chicago. Here, you'll meet skilled craftsmen who embody every mentioned attribute with expertise in crafting unique designs. This establishment stands as a testament to the epitome of excellence in the world of engagement rings. Join us in exploring a realm where your cherished dreams of the perfect ring come to life.
Wedding Bands & Co Chicago Jewelry Store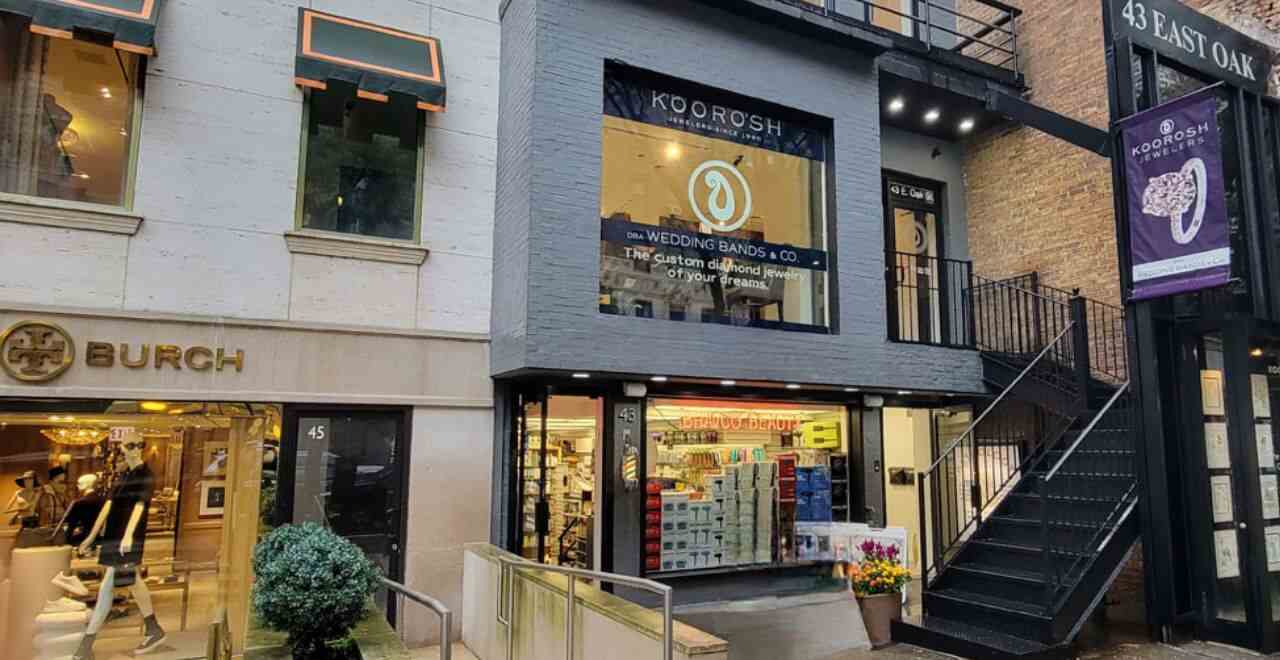 Since 1990, Wedding Bands & Co Chicago jewelry store has been serving over 10,000 satisfied customers. It's the go-to place for creating personalized engagement rings and wedding bands, all designed and made right on the premises. Customers can simply stop by or easily schedule through the website. schedule an appointment
In the shop, they offer expert help, share diamond information, and help customers understand the worth of engagement rings with diamonds. They involve clients in every step of the process. First, they sit down with the client to understand their preferences and design specifications for the ring. Once they understand the client's vision for the ring, they proceed with the design process.
Wax Engagement Ring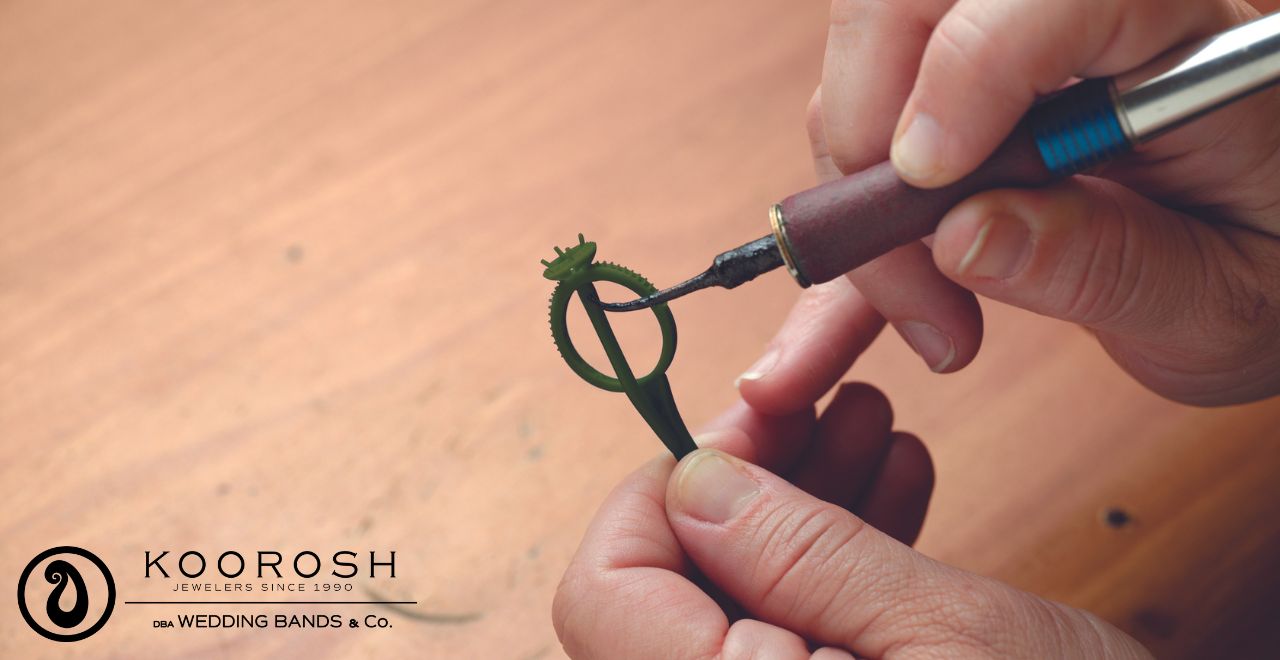 A wax engagement ring is a preliminary model of the final ring design crafted from specialized jeweler's wax. It serves as a tangible representation of the envisioned ring.
Craftsmen meticulously carve and shape the wax to replicate the intricate details and proportions specified in the design. This wax prototype allows the wearer to visualize how the actual ring will look and feel on their hand.
Making custom jewelry involves an important part that allows for changes or improvements before making the final piece. This ensures that the finished engagement ring perfectly matches the desired design and meets the client's expectations.
At Wedding Bands & Co, they believe in ensuring that all details of custom-designed engagement rings are perfect. They offer a chance to try on a wax prototype of the design before starting the final crafting stage. This allows customers to see and feel how the ring will look on their hands, ensuring that it's exactly as envisioned.
Their commitment to customer satisfaction is evident in every step of the process. This distinctive approach sets them apart as one of the best jewelry stores in Chicago.
In Wedding Bands & Co Chicago jewelry store, every diamond ring is a masterpiece of precision and creativity. Their skilled artisans meticulously handcraft each ring, infusing it with unique design elements that set it apart. These diamond engagement rings for women boast a captivating fusion of brilliance, with carefully selected diamonds that meet the highest standards of quality and craftsmanship.
From vintage-inspired classics to modern, avant-garde creations, every ring tells a story as unique as the love it symbolizes. Wedding Bands & Co guarantees that each diamond engagement ring symbolizes eternal love and artistic talent. They believe an engagement ring should be more than just a piece of jewelry.
Click to explore the most unique engagement rings in Chicago available in high-quality yellow gold, platinum, rose and white gold settings.
Address: 43 E Oak St fl 2, Chicago, IL 60611, United States