Posted by Koorosh Daneshgar on Apr 29th 2019
How to choose a jeweler for buying an engagement ring?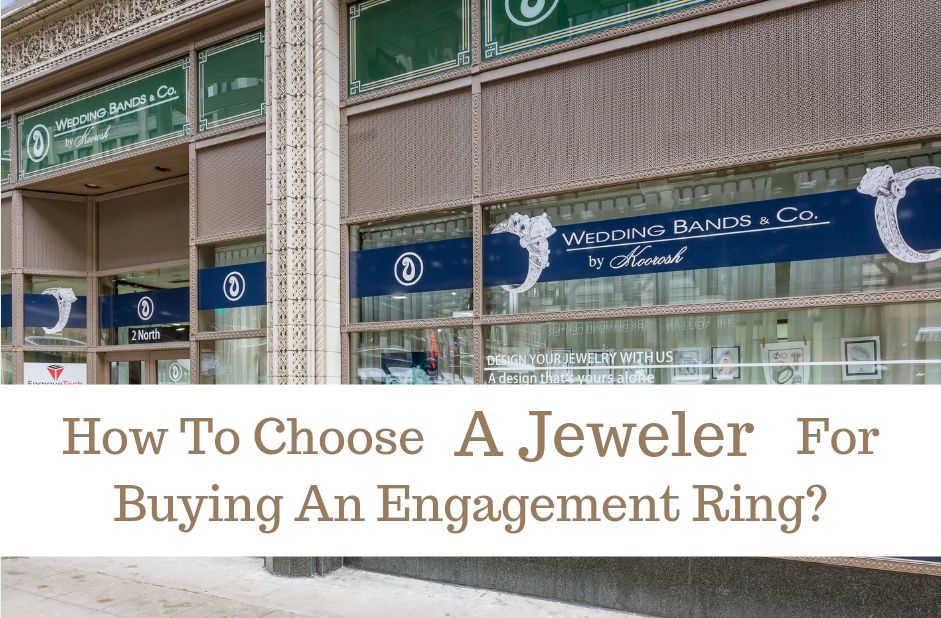 Choosing a beautiful diamond engagement ring is a delicate process that shouldn't be done alone. Having an expert jeweler at your disposal to guide you through the process is very important, but not any jeweler will do. A jeweler should not only be knowledgeable, but also creative and reliable.
A proper jeweler should be someone you can have a relationship with. In theory, you should continue your relationship with your jeweler even after you receive your engagement ring. You want a jeweler you can come back to time and time again for other memorable moments: wedding bands, anniversary presents, gifts for the birth of children, or if you ever upgrade your engagement ring's diamond or the setting.
How to choose a jeweler for an engagement ring?
How to choose a jeweler for an engagement ring?You will spend a lot of time with your jeweler through the process of creating the perfect engagement ring, it's one of those items where not just anyone can do. You need someone you can trust and someone who will also teach you as you go. A jeweler should also want to get to know you personally, someone who loves seeing you around the store when you stop in for a visit or a cleaning. If you can find someone who can give you this relationship you will never have to worry about the advice or ideas for personalization they give you.
Remember it's a marathon, not a sprint. Any jeweler who tries to rush you through the process is not giving you the justice or service you deserve. Below we will discuss how to find the PERFECT jeweler for you!
What to notice when you first meet with a jeweler?
First thing to remember is, you want a jeweler who will understand positively respond to your form of communication. Everyone is different, so take the time to think how you like to be spoken to. Are you direct and right to the point, are you more a romantic who loves to discuss ideas, or are you someone who wants to truly be led on a journey. Once figuring out your style of communicating it's also important to ask certain questions: How do I figure out my budget? What details do I need to know before going to shop, and how do I go about finding her size. The next thing to look for is how they answer these questions, are they barking orders to you or are they really educating you in a productive way? They should also have ways to personalize, be able to dream with you but also keep you in the reality of your budget. Next take a walk around their store, see what settings and rings they have out: Is it a wide variety? Do they have all different types of styles? Is there a way to see loose diamonds in the settings?
Basically its important to find someone who's passionate about their work. Maybe even ask them about their story, how they got involved in the jewelry industry. I love telling my clients of how when I was a little boy I remember going shopping with my father for Mother's Day gifts and every time my mom opened a gift she was elated with joy, and even more so when those gifts were beautiful pieces of jewelry. It became a need for me to see that face of happiness of others and what better way to do it than through the special gift of engagement rings and wedding bands. I love being able to see the looks, smiles, and even tears of someone getting the most perfect engagement ring.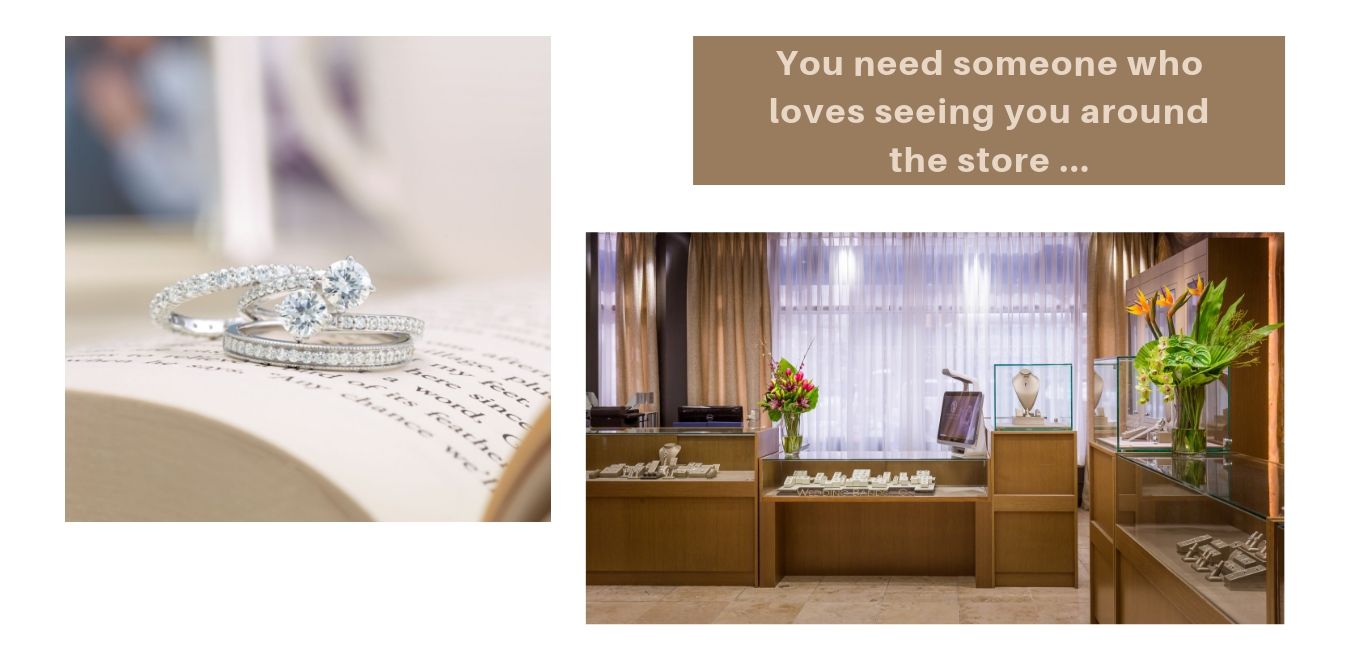 What services you have to ask a jeweler?
Next thing to look into when finding your jeweler, is always see what services they offer. Any reputable jeweler will be able have some perks to give out when you buy with them. There are many reasons for this, 1- to make you want to shop with them, but 2- also as a thank you for your time and trust in them to create something beautiful. This also is a sign that they want to see you again and that you specifically touched them by allowing them to create with you.
There are two things EVERY jeweler should offer once you've bought an engagement ring from them:
1. Cleaning
An engagement ring is something you put on and usually don't take off very often. This causes it to get dirty quickly. You need a jeweler that understands that and wants to keep that piece that you worked so hard on creating in pristine condition. At my store, we do a complementary six month cleaning on all rings, no matter the size or cost. We want all our customers to know they are important and deserve a beautiful ring that last forever. With our six month cleaning you will get an ultrasonic with steam pressure cleaning. This cleaning will not only clean the metal and the surface of the ring but will also get trapped oils and lotions behind the diamond so your ring will come out looking brand new.
We also offer a Life Time
once a year check up, which includes, checking all prongs and stones, polishing, and Rhodium plating free of charge for rings that are created and bought in our store. Rhodium plating is the plated on gold to create white gold. There will be another block post all about Rhodium plating soon. Most of the time Rhodium plating can cost anywhere from $75.00-$100.00, which can add up. So it's important to find a jeweler who understands that and wants to keep that cost down.
Also, even if your jeweler offers periodic free cleanings you need to make sure it is being done at their store. If a jeweler sends out his jeweler to an off sight cleaner there is greater chances of errors, then who's fault is it at that point? You could have the cleaner say the jeweler didn't check the stones properly, or you could have the jeweler say the cleaner didn't take proper care of it. Then you could be left with a ring that can't get fixed unless you pull out your wallet and pay for it.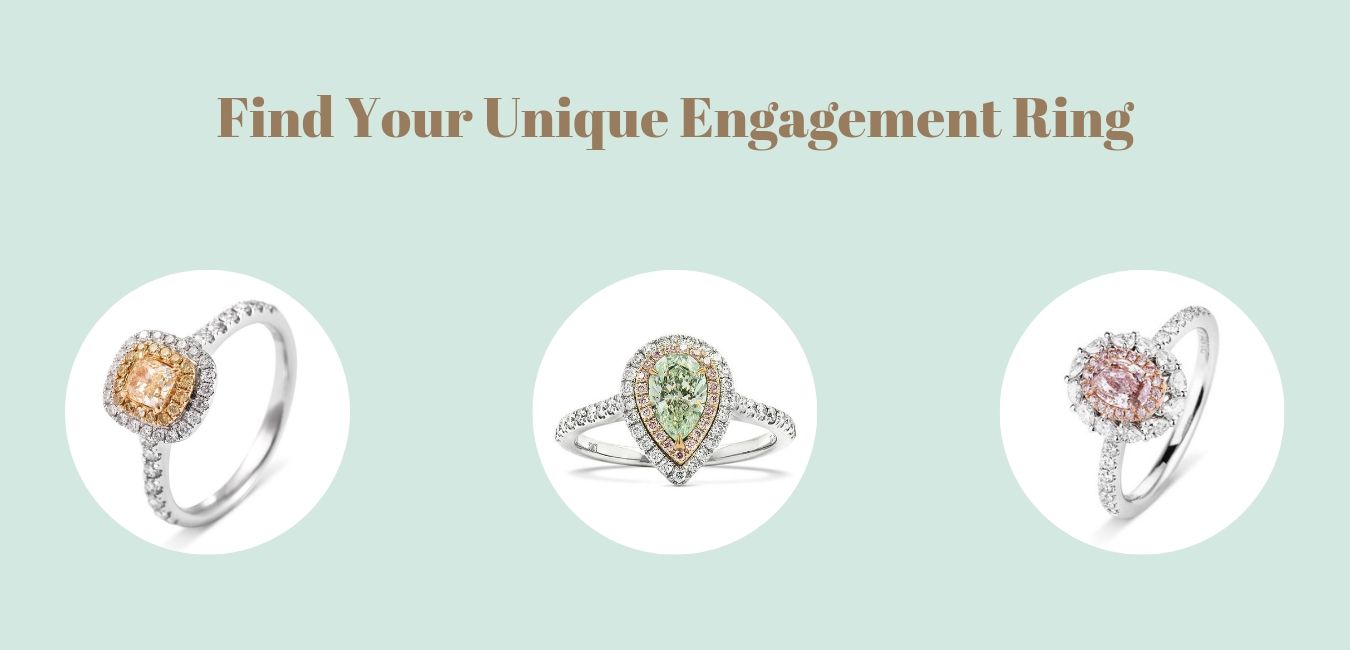 2. Warranty
Any jeweler would like to believe that his work is perfect and there won't even be any issues with it. The reality is that nothing in this world is completely perfect and you want a jeweler who recognizes that and will take action if things go array. There are many different ways to handle a warranty. Some stores do a 30-90 day warranty. But I feel that isn't enough time for manufacturing mistakes to come to the surface. I give a one year warranty on any manufacturing defects right off the bat for any ring we produce.
A lot of jewelers will also try to sell you an expensive Lifetime Warranty, but make sure you read the fine text. Most of the times you have to jump through hoops to get it or the mistake has to be so specific that its almost impossible to use, so you're out on what you thought was a good investment. I don't offer lifetime warranties, but I do off affordable extended warranties for anything that could go wrong with your ring. You can see all of them on the website.
Signs show you to leave a jewelry store
There are horror stories out there of couples getting their engagement ring so I wanted to make sure to include some tell-tale signs to look for. If you see these, leave immediately and don't waste your time and money.
First off, just like with anything, follow your gut. It's your body's way of making sure you don't get into something you can't undo. The vibe you get upon enter a store will almost always tell you how the rest of the experience will go. If you walk into a store and aren't greeted with a huge smile and an eagerness to talk with you, it's probably not the place for you.
But lets say you are greeted with that eagerness you want in someone who is creating for you, but then they start getting pushy or you start feeling pressured to purchase something right on the spot. You just kindly excuse yourself and get out of the situation. This is too big of a purchase to be rushed or coerced into something that isn't ideally what you want. Don't be afraid to dodge, it is never too late to leave and find something or someone better.
Also, if they aren't forthcoming with their pricing or it seems off, step away from that sale as well. You want a jeweler who isn't just working for their commission but is working for happy customers.
Lastly, and this is more of a personal opinion, but I think finding a jeweler who wants to be creative with you is so important. Any jeweler can show you round cut stones and halo settings. But if a jeweler takes out paper and pencil and wants to design something. Or listens to your needs and grabs multiple stones and settings and wants to show you how you can mix and match to get exactly what's in your head, that's the jeweler you want for this investment. That's the jeweler you want to share this joy and spend this important moment in your life with.
Why should I come to you to design my ring?
We involve you in every step of the process. At first, we will sit next to you and go over any concerns you have and any specific design elements you mind the ring to have. Once we have established exactly how you want the ring looks like, we will proceed with the design process. Once you see this design, if you want to make any change or if you have any questions or concerns we will be happy to address them for you. Our role is to help you to create the perfect ring and that means we will listen to you and make sure that your ring is indeed one of a kind.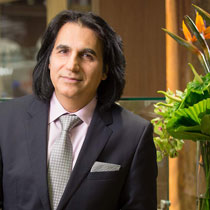 By: Koorosh Daneshgar CEO/Design Chief
Email: Koorosh@WeddingBandscompany.com
Phone: 312-920-0726
Business Text Message Line:312-785-8333